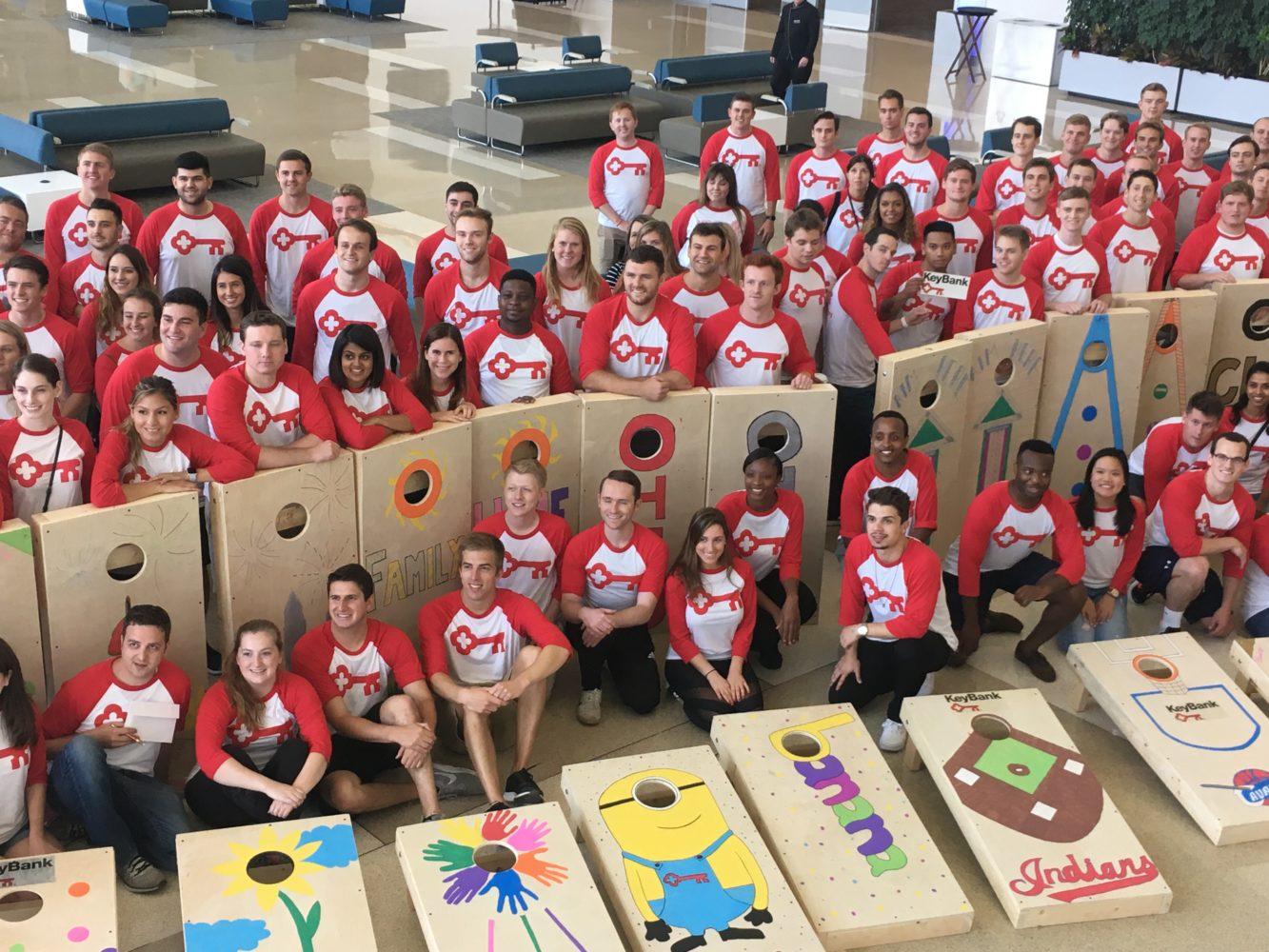 How do you get fun and lasting results from a team building event when there's upwards of 75+ people to involve? We know the challenges with team building for a large group, particularly when you want to include everyone!
To have a successful team building event for any size group, you must figure out how to manage the energy and make sure everyone participates. But a good and lasting team building experience is difficult, especially when you're dealing with lots of people and personalities. Whether you hire an outside facilitator (like us) or not, always start with the end goal in mind. Is it that your team needs to get to know each other, do they need to start working better together or do you just need to do something fun? Or is it all of the above?
For large groups, you can and should do whole group activities to get them energized, but you also need to compliment them with breaking people into small teams to be able yield real and lasting connections. However, that doesn't mean they should just hang out with the few people they know best! Getting participation from a lot of people without excluding others and making sure everyone feels connected takes some planning and organization but is well worth it.
Here's just a few of our team building activities our clients love – including philanthropic and highly interactive activities – that work great for large groups (and even small groups as well):
Team Decathlon: Teams do fun yet unusual competitions using mental challenges combined with low-impact but spirited physical activity.
Build A Bike: Teams construct bicycles while navigating unique challenges then donate those bikes to children in need.
Game of Drones: Teams get to navigate lightweight, full immersion drones, collaborate to build the course then compete for ultimate supremacy.
Extreme Mini-Golf: Each team designs and builds a unique course with unique rules, one hole at a time. Then everyone tees off to achieve the lowest possible score.
Patriot Power: The company gets to help military families by furnishing their home. Teams perform interactive construction challenges during the process.
Crack the Code: Teams strategize, coach and communicate to complete a series of activities to go from a set starting point through a series of escape routes to freedom and success.
Cornhole Challenge: Teams get to assemble, decorate then toss a few rounds while maneuvering fun challenges then donate the boards to families in need.
These are fun, inclusive and really do bring teams together. And we always begin team building events with energizing the whole group first before the big activity begins.
Big groups or small groups, we all are a part of teams. And team building is a great way to make a collection of people into one cohesive team. Whether it's on the playing field or in the office, when a team works well together, everything runs much more efficiently and effectively. Not only that, but people tend to be much happier and feel more fulfilled too!